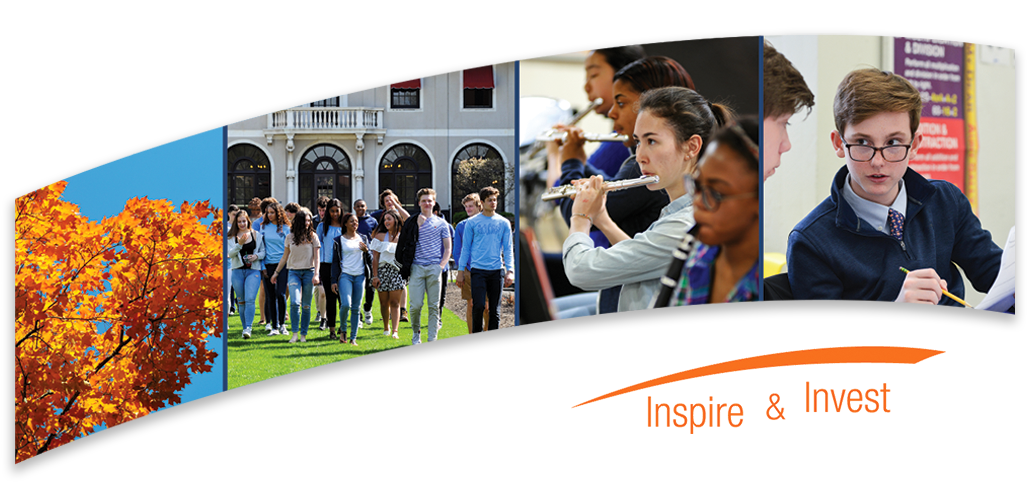 Lake Forest Academy Surpasses Inspire & Invest Initiative Goal; Raises $23.57 Million
In January 2018, Lake Forest Academy began the leadership phase of an initiative to sustain and grow LFA's efforts to provide deserving students access to scholarships as well as attract and retain first-rate faculty. This initiative is part of the LFA Strategic Plan, which challenges the Academy family to increase the permanent endowment for enhanced fiscal stability. More than $23.57 million has been committed, surpassing the $20 million goal. While the initiative formally closed on March 15, 2022, LFA will continue to raise funds to support students and faculty.
The endowment's market value on June 30, 2021 was approximately $56.3 million, up substantially from its market value of $11 million in 2001. Although the endowment continues to grow through estate gifts and other contributions, a school of LFA's size, stature, age, operational breadth and program expanse needs a substantially larger endowment to compete with other private schools. Growing the endowment to three times the operating budget of $24 million or more will position LFA well for its future under the leadership of Head of School-elect Chris Tennyson. The Initiative was co-chaired successfully by Academy alumnus and Life Trustee Jim C. Cowart '69 of Laguna Niguel, Calif. and Trustee Patrick Corsiglia of Lake Forest (parent of three alumni).
Support for Great Students
An LFA education exposes students to a world of opportunities, in and out of the classroom, at home and abroad. The Academy strives to ensure that these young people receive the best college-preparatory education possible, at a cost that allows for economic diversity among the student population. As part of this Initiative, the Academy seeks new and increased endowed scholarships to ensure that LFA remains a richly diverse and culturally stimulating environment, as well as a place where deserving, academically-qualified students, regardless of their families' economic circumstances, can live and learn side by side.
Support for Great Teachers and Inspiring Coaches
Caring and nurturing professional faculty members are at the heart of the LFA experience. LFA students and alumni alike cherish a close, positive relationship with their teachers and coaches. LFA faculty educate and nurture students in the classrooms, on stage, in dormitories and on playing fields, providing around-the-clock care and supervision to our community of 430+ young adults. They are the mentors, advisers and surrogate parents that students rely on and require during their formative teen years spent at LFA. As part of the Initiative, the Academy seeks endowed funds to name academic chairs and to provide professional development for teaching faculty and staff. By continuing to invest in faculty chairs and by providing continuing education, professional development and personal enrichment programs to faculty, LFA will continue to attract and retain the highest caliber faculty in the nation.
Inspire & Invest PDF Links